The Multi-Sensory Exhibition of Trash

Yale University
Fall 2017

Project team: Nicole Doan, Sissi Guo

Once the largest landfill of New York, Freshkills is being transformed by James Corner into a recreational park. Four looming mounds of trash have been buried under landscaping in order to beautify Freshkill's ugly past. With NYC currently generating 14 million tons of garbage each year, waste remains a pressing issue.

Instead of eradicating Freshkills' past as a landfill, we are celebrating its history by proposing a trash museum that sorts and utilizes the recycled materials transported from the nearby Staten Island Transfer Station. Located at the center of the site, the museum houses a ferry terminal, which receives museum and park visitors.

The museum includes a trash sorting component, whose conveyor belts can be seen inside and outside the building, as accentuated by transparency in material. Through the multi-sensory exhibition of garbage, visitors experience the sensibility of waste by seeing it, touching it, smelling it, and hearing it.

The circulation of ferry users, museum-goers, and trash intertwine. In some areas, the three paths converge, whereas in others they are physically apart, but remain conscious of one another by visual means. Within the atrium, transparent storage for recyclables hang above the ticketing area below. The proportionally sized storage connects directly into a workshop space in which artists and visitors create pieces made of the disposed materials. The direct interaction with garbage leads people to be aware of both Freshkills' history and their own habits regarding waste.




First floor plan



Second floor plan


Trash sorting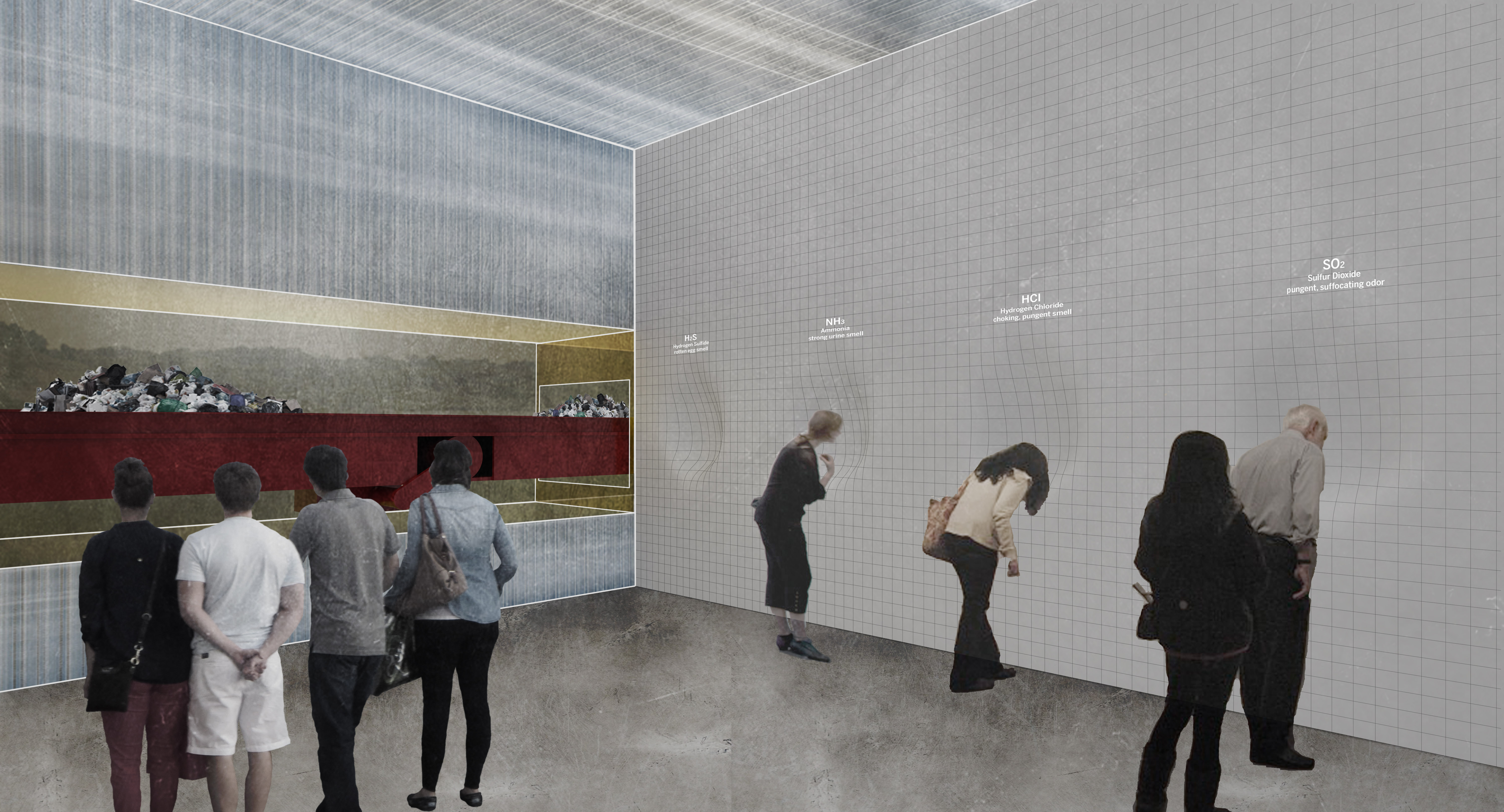 Smell exhibit


Atrium


Early diagrammatic model of human and trash circulation


Represented in yellow, trash exhibits, circulation, and storage are visible throughout the entire experience of the building